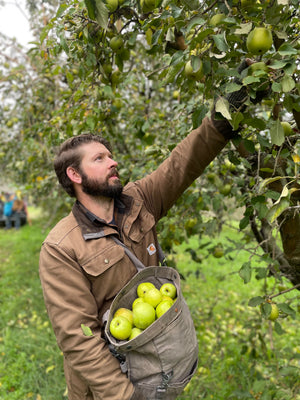 Brendan Barnard
Role: Orchardist, Cidermaker
Bio: Passionate about stewardship, long term thinking, and the intersections of nature, art, and science, cider captured Brendan's attention in 2016 and he hasn't shaken it. When he's not grafting, planting, pruning, picking, pressing, or sampling cider you'll find him cooking for his family.
Kris Barnard
Role: Operations, Sales, Marketing
Bio: In between being a silly and devoted mom & managing a business, Kris loves meeting other small business & farm operators. She's fanatic about good pies, good organization systems, and friendly animals. Her favorite days are spent together picking apples and then finding some water to relax in.