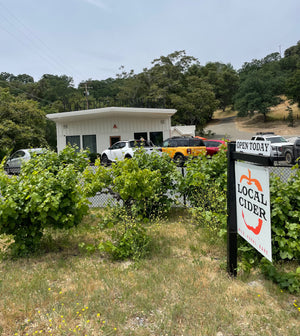 Bottle Shop and Tasting Room
Address: 8032 Main Street, Mokelumne Hill, CA 95245
Open 12:30-6pm on Fridays and 12:30-5:00 pm, Saturdays and Sundays
You can stop in for a tasting flight anytime or pick up a few bottles to go.
We invite you to bring your own food or order from DoorDash. There is a selection of board games for those who would like to hang out and enjoy a bottle between friends.
Children and well behaved dogs are also welcome.
____
Posterity Ciderworks produces cider in Mokelumne Hill, a small town within Calaveras County, California. This area is often called the Sierra Foothills or Gold Country and is known for its Jumping Frog Contest, the writers Mark Twain & Bret Harte, Historical Gold Mining, and Giant Sequoia groves.
Some of the unique fruit you'll find in our ciders is grown on our family farm. We started planting our heritage apple and pear orchard in 2019 & chose to plant full-sized rootstocks -- uncommon in modern fruit agriculture due to the longer growing time until the trees yield fruit. We think they're worth the wait, though, as these trees will ultimately outlive us and produce fruit & cider for several lifetimes. 
Other fruit we use in our cider comes from a selection of orchards in the Sierra Foothills. We've met many wonderful people who've granted us access to their private estates, 150 year old homesteads, and solitary trees scattered throughout the region.
____
To learn more about our trees and how we source our fruit trees, visit our Local Trees page.
Retailers
A select handful of natural wine bars, cider bottle shops and restaurants carry our ciders throughout California. We advise you call ahead to assure the exact cider you're looking for is in stock at that location.